Heavy rains leave Somali IDPs without shelter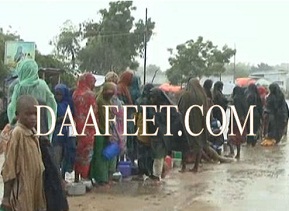 Hundreds of internally displaced persons (IDPs) camping in and around the Somali capital Mogadishu have been left without shelter after heavy rains pounded city.
Many of the temporary shelters were washed away due to the heavy rains leaving the war and famine ravaged poor people without any shelter or sheltering with other poorer familieswhich online bingo is best.
winpalace mobile casinoIn one instance inside one of the camps, a lady who requested us not to be filmed said she lost her new born baby who was only ten days old due to the cold and rains.
These displaced persons have been living in this camp for more to one year now and it's their hope that the new Somali government will assist in returning them back to their native regions with the onset of heavy rains here in Mogadishuvirtual roulette game.
watch keno live online queenslandThe situation however worsened as rain water filled the pit latrines, spilling the sewage into the make shift houses for the displaced persons and thus subjecting them to infectious and waterborne diseases.
Medical professionals in Mogadishu however warn that waterborne diseases such as cholera and diarrhea might eventually break out in the camps as sanitation continues to deteriorate in the displacement campstop ten best online casinos.
top casino sites ukHealth workers also called on the urgent need for intervention on the sanitation side to avoid an epidemic among the children, especially those below the ages of five. The health experts also called on the government to take decisive steps in preventing the spread of communicable diseases by spraying biological chemicals in the camps to reduce the growth of parasites.
Following a devastating famine, lack of food and proper housing continues to be a major issue for the IDPs in Mogadishu. And with the onset of heavy rains and cold season, it's likely that the situation of these poor people will get worsetop 10 bonus casinos.
Source Press Tvthree card poker games online
---
<